This year's Barrett-Jackson Scottsdale auction displayed a wide range of exquisite collector vehicles, hot rods, classic muscle cars and custom trucks of all eras. Unfortunately, we were only able to spend one day at the show. While walking around we noticed the four vehicles shown below whose owners chose BluePrint Engines to power their build. Here are some of the amazing rides we watched cross the auction block:
1972 Chevrolet C10 Custom Pickup
This beautifully restored Chevy C10 pickup is one-of-a-kind. The custom classic truck was built with such attention to detail from its immaculate exterior to its professionally built chassis. For a build of this caliber, it is fitting that a BluePrint Engines 383ci stroker small block Chevy was selected as the powerplant. Delivering 430 horsepower, the BluePrint 383 is a stout small block and one of our most popular crate engines. The beautiful C10 sold for $69,300.00!

1969 Ford Mustang Fender Custom Fastback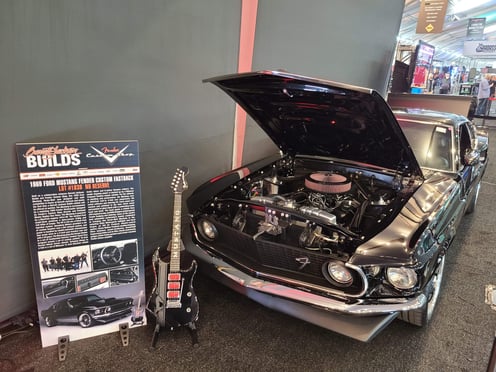 This was one car you did not want to miss! We watched on social media as the Barrett-Jackson Build team put together this sleek and stunning Ford Mustang Fastback in celebration of Barrett-Jackson's 50th anniversary and Fender Guitar's 75th anniversary. The special tribute would not be complete without an impressive engine to bring the Ford resto-mod to life. A fuel-injected BluePrint Engines 347ci stroker small block Ford can be found under the hood, producing 415 horsepower and dressed with custom valve covers and satin black parts to complete the package. The jaw-dropping Mustang sold for $148,500.00!
1970 Chevrolet Chevelle Custom Coupe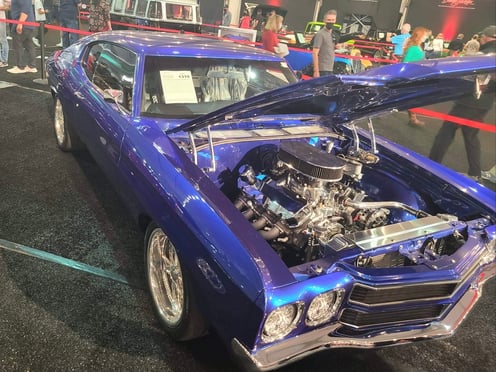 We loved this 1970 Chevelle from the moment we spotted it. The iconic Chevy muscle car has been transformed into this highly customized and modern ride. It was built with performance in mind and only the best parts available in the aftermarket. Powered by a fuel-injected BluePrint Engines 540ci stroker big block Chevy, this beast is pushing 670 horsepower and 660 ft-lbs of torque! A Tremec Magnum 6-speed manual transmission has been mated behind the big block for gear-banging action. The show-stopping Chevelle sold for $181,500.00!

1965 Chevrolet Corvette Custom Convertible

At BluePrint Engines, we love modern V8 engine swaps of all kinds – especially LS swaps. While this beautiful '65 Corvette custom convertible does not have a BluePrint crate engine under the hood, we noticed that its LS3 had been upgraded with BluePrint LS aluminum cylinder heads. The build is a perfect blend of classic looks with modern fuel-injected performance. We like to think that had it had a BluePrint 530 horsepower LS376 under the hood it may have sold for more, but a sold sticker of $220,000.00 is quite amazing!

As a reminder to all the new owners of the vehicles above, BluePrint Engines industry-best warranty is fully transferable. You read that right! Your engine will still be covered under our 30-month/50,000-mile warranty.

Whether you are restoring your high school hot rod or building the car of your dreams, choosing the right power-plant and components will protect your investment. We are honored that BluePrint Engines has been a part of these beautiful builds.