Kearney, NE – Take your build from mild to wild with BluePrint Engine's biggest and baddest crate engine package! This new Blackout Reaper Edition 632ci Stroker Big Block features an exclusive all-black finish for customers seeking a high-performance package with a show-worthy appearance. Dyno promised to produce 815 horsepower and 775 ft-lbs of torque, this is the ultimate crate engine to bring your classic Chevrolet or GM vehicle to life!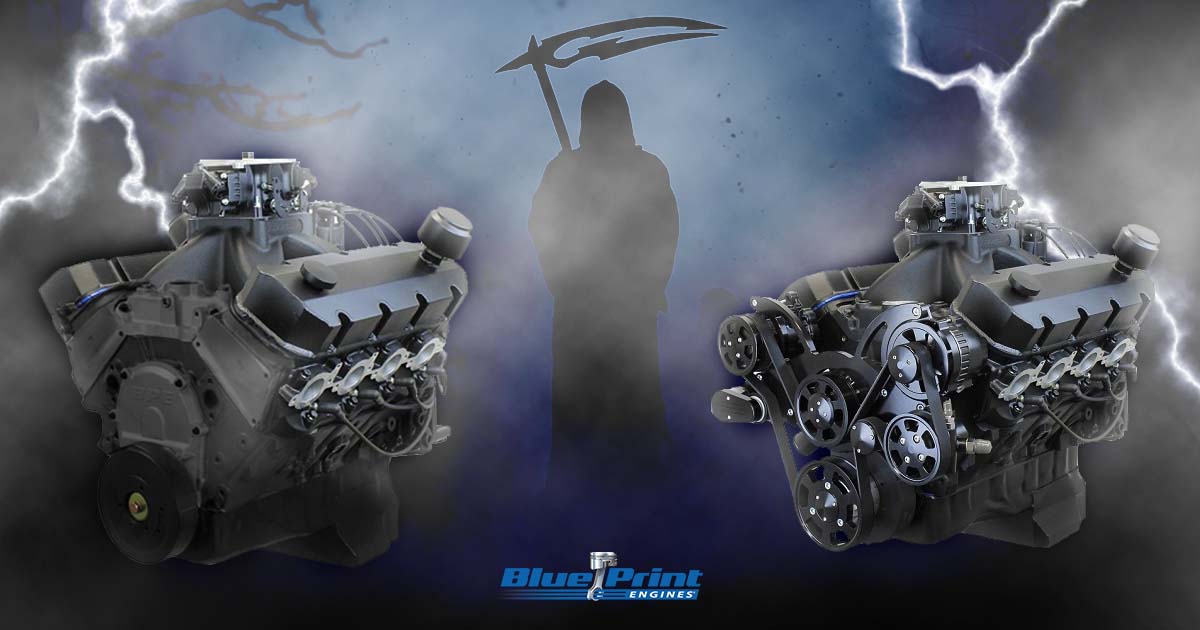 Proudly manufactured and machined in the USA, the beastly 632 ProSeries stroker big block is the largest displacement crate engine that BluePrint Engines produces. The new Blackout package features the following:
New BluePrint cast iron block

Tall

deck height (approximately .400 taller/wider than OEM Chevy block)

4.

600" bore x 4.750" stroke

Hydraulic roller cam

11:

0:1 compression ratio

All forged internals

BluePrint 358cc aluminum cylinder heads

Choice of EFI or carburetor

Black billet accessory drive

Exclusive blackout components (cylinder heads, intake manifold, timing cover, etc.)

All BluePrint crate engines are dyno tested before they leave the facility and a dyno sheet is included with every shipment. Customers will have confidence knowing how much power their specific engine produces, guaranteeing performance in your vehicle. BluePrint crate engines are also covered by a 30-month / 50,000-mile warranty, assuring customers that their investment is protected.
"Many of our customers had requested that we produce a more sinister-looking version of our 632. We usually don't get into painting heads, intakes, etc, mostly due to their etching properties and the complexity of the job, but in this case, we decided to take our most powerful engine, and offer this blackout reaper package for the customer that is interested in spending a little more money, and upgrading to this exclusive all-black finish. Black is the new Chrome after all, and we think it matches everything!" says BluePrint Engines Product Manager, Johnny McDevitt.
For pricing and more information about the Builder Series 632 engine and transmission packages, click here: https://blueprintengines.com/collections/gm-compatible-big-block-632-engines
____________________________________________________________________________
About BluePrint Engines
BluePrint Engines® was founded by Norris Marshall in a small, central Nebraska garage almost 40 years ago. What started as a passion for speed turned into a hobby, then a job, and finally a career. Drag racers, circle track racers, and street rodders all got some of the first engines produced by BluePrint Engines.
As its reputation grew, the mainstream recognized BluePrint Engines as a trustworthy place to get fun, reliable-horsepower crate engines. Today, BluePrint Engines has produced more than 300,000 engines for cars and light trucks. Our tremendous staff of qualified technicians has a passion for performance — on the job and the street.
For additional information, call 800.483.4263 or visit BluePrint Engines website at blueprintengines.com .