We love our V8s here at BluePrint Engines! From small blocks and big blocks to fuel-injected LS and stroker engines. While we could talk about them all day, we recognize that when building a vehicle there are many other important things to consider apart from selecting the engine. Things such as choosing a transmission that can hold up to the power, selecting the right torque converter stall to match the camshaft, properly aligning the bell-housing, determining which accessories and oil pan will work for your specific vehicle… the list goes on! We wanted to save the headaches of sourcing parts for your drivetrain install and offer a complete solution that comes with everything you need, already assembled.
Introducing BluePrint Engines Builder Series engine and transmission packages! A first in the aftermarket, all Builder Series drivetrains are manufactured and shipped as a complete package with the engine, transmission and front-drive accessories already mated together. Designed to make drivetrain installation less painful and save valuable build time and expense.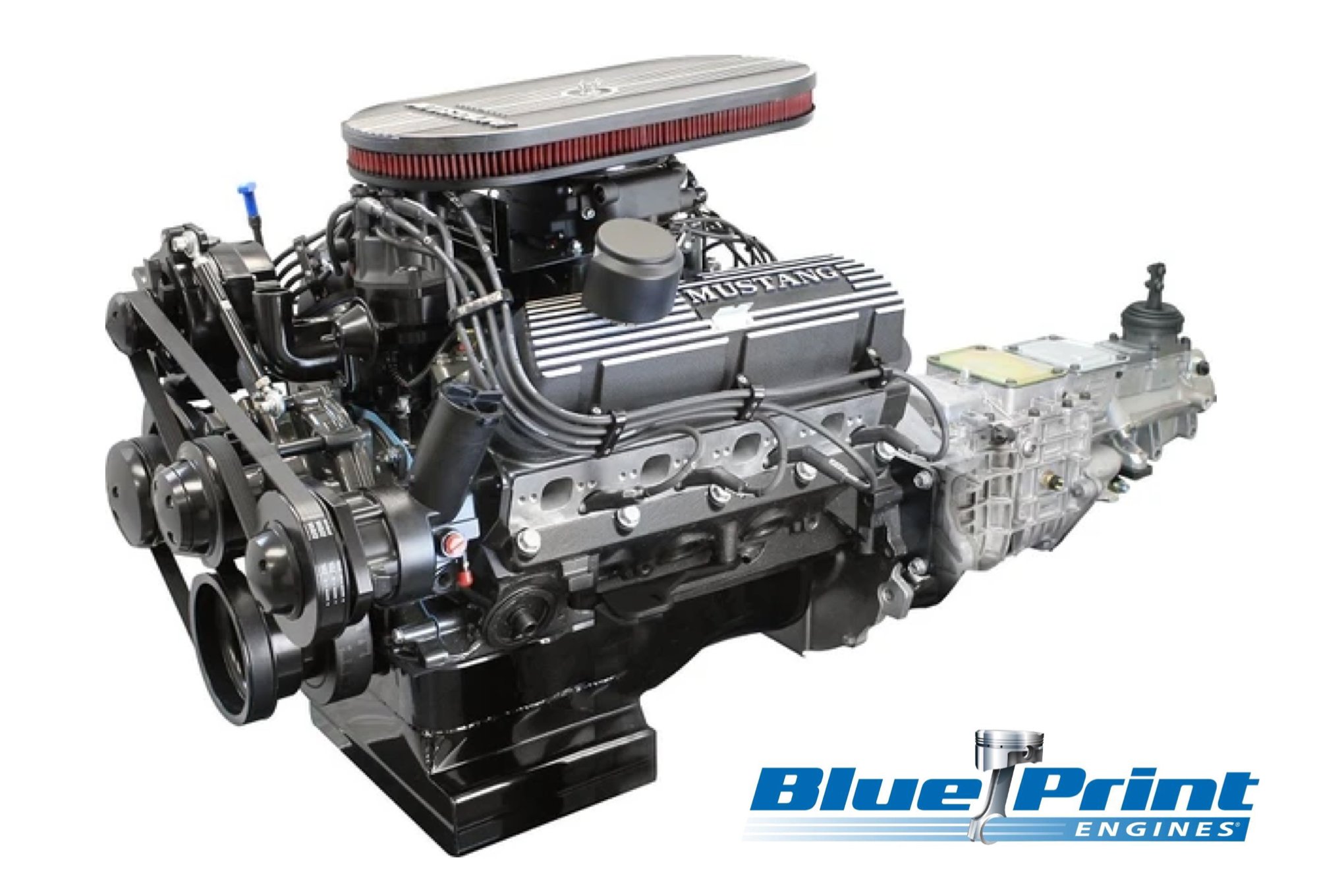 With the Ford Mustang being such a popular vehicle in the muscle car market, we wanted to offer a special engine and transmission package specifically for these classics. We match one of our brand new 347ci stroker small block Ford crate engines with the customer's choice of a Tremec manual transmission or 4R70W automatic transmission, bolt on the front drive accessories and dress the engine with a Mustang air cleaner and valve covers to complete its show-worthy appearance.
All BluePrint Engines Mustang Builder Series packages come shipped with the following:
Complete assembly of 347 stroker crate engine, transmission, front accessories

Choice of manual or automatic transmission

Torque converter or clutch assembly installed

Choice of carburetor or EFI unit

Starter motor installed

One-wire alternator installed

Mustang specific oil pan installed

Choice of polished or black accessory drive

Available with or without air-conditioning and power steering
The BluePrint Engines 347ci stroker small block Ford is dyno promised to produce 410 horsepower and 415 lbs-ft of torque. All BluePrint crate engines are dyno tested before being packaged and shipped with the dyno results. Builder Series engine and transmission packages are also covered by our 30-month/50,000-mile warranty. (Note: Packages with a manual transmission carry Tremec's manufacturer warranty)
Check out our latest crate engine tech video with Steve Magnante and BluePrint Engines' Product Manager, Johnny McDevitt, to learn more about our Mustang drivetrains: