When it comes to hot rods and automotive chaos, there's no one who does it quite like the guys from Roadkill do. David Freiburger, Mike Finnegan and Steve Dulcich have done it all – from drag racing and cross-country road trips to off-road adventures and burnouts for distance! Who better to put our crate engines to the test?
Here's a look at our favorite Roadkill vehicles that are powered by BluePrint Engines:
Crusher Camaro
David Freiburger's 1967 Chevrolet Camaro known as the "Crusher Camaro" is one of Hot Rod Magazine's most iconic project cars. The ever-evolving F-body has run many different engine combinations over the years. Its two most recent set ups include a supercharged BluePrint 427 stroker LS and currently a BluePrint 400ci small block with a tunnel ram! Though the boosted stroker LS made 800 horsepower, there is something special about the naturally aspirated 400ci small block that powers the car today. Maybe we're just nostalgic and really like the tunnel ram set up. No matter your preference of engine, the Crusher does amazing wheelies in this drag race configuration and that is something every gearhead can get behind.

Draguar


Though the Roadkill fleet consists mostly of Chevy, Ford and Mopar muscle cars, Freiburger and Finnegan have found a way to make this 1974 Jaguar XJ12 a whole lot more American. The car already had a tired 350 Chevy under the hood when they purchased it, but that just wasn't Roadkill enough. The guys swapped in a BluePrint power adder 383 stroker and topped it off with a 6-71 supercharger to produce over 600 horsepower! All of this was done in a Summit

Racing Equipment

parking lot. The Draguar has become a Roadkill icon in the fleet and has certainly been put through the ultimate torture test. The car has been run at multiple drag strips, road raced at Willow Springs, and driven thousands of miles on road trips. Oh, and it has certainly roasted some tires off in the process. It's not every day you see a luxury British vehicle with a blower sticking out of the hood, but we're glad it exists.

Disgustang

This 1969 Ford Mustang Mach 1 was abandoned in a junkyard for almost 40 years before Freiburger and Finnegan revived the car. Initially powered by a 351 Windsor, the Disgustang has since been built into a capable daily driver and runs a BluePrint 408 stroker shortblock with AFR heads under the hood. The classic Ford maintains its patina and weathered appearance but sports a brand-new interior, complete sound system, Vintage Air air conditioning and all the creature comforts you would expect out of a daily driver. With 490 ft-lbs to the tires and a 5-speed transmission, the Disgustang would never be boring to drive. Saving classic cars and getting them back on the road is what the Roadkill crew does, and BluePrint Engines is proud to be a part of this project.

BJ-5

Freigburger and Dulcich build a wide variety of vehicles on Roadkill Garage. This 1975 Jeep CJ-5 is definitely one of the more unusual hot rods that they have put together on the show. It is quite literally a blown CJ-5, hence the name. They used a BluePrint power adder 383 stroker as the shortblock for this combination and to bring the build from mild to wild, they installed a 6-71 supercharger on top. The Jeep has proven itself many times off-road, from dirt drag racing to ripping through the mud and hills in Hollister, California. Some may say it's far from practical, but you cannot deny how much fun it would be.

The Field Car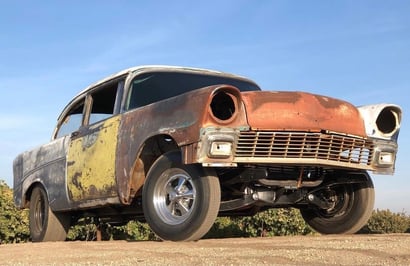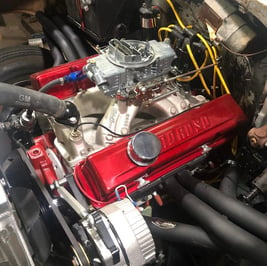 While this '56 Chevy is not actually powered by a BluePrint crate engine, the 350 small block Chevy in the car does run a set of BluePrint 210cc CNC ported aluminum cylinder heads. The stout small block known as the "COVID 350" was put together by Freiburger with parts that he had left over in his garage. When tested on the dyno for an episode of Engine Masters, the engine made just over 500 horsepower! Our CNC ported aluminum cylinder heads feature 64cc combustion chambers, 210cc intake/66cc exhaust runners, and 2.08" intake/1.60" exhaust valves. The heads ship fully assembled with valve springs, retainers, locks, guideplates, studs and seals and are designed to provide big power on a modest budget. We can't wait to see what's next for The Field Car!